KNOWLEDGE IS POWER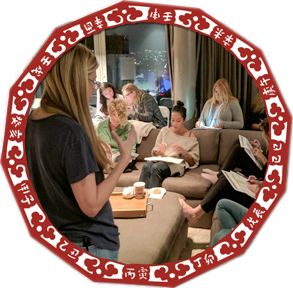 My many years as a Hollywood movie director have prepared me to inspire and motivate groups. As one of the few experts in the West doing this type of work, it is my passion to share the real-deal of Feng Shui and BaZi Chinese Astrology. Everyone gets their personal chart for a hands-on experience.
Early in my speaking career I was invited to India, Vietnam and Panama as a keynote speaker for the prestigious Young President's Organization aka YPO. It was at these events I met and worked with some of the worlds' most influential CEOs and business leaders. What they have in common is their thirst for knowledge and openness for out-of-the-box thinking.
That is why I continue to expand my teachings to include hot new topics like Qi Men Dun Jia and Guardians of Destiny where everyone gets to know their personal Super Power. Let me direct you with metaphysical tools to empower your journey.
HOW CAN I HELP DIRECT YOUR EVENT?
Everyone wants a personalized experience. That is why my signature event allows everyone to work on their personal charts in a group setting. Feng Shui Period 9 has begun and everyone needs to focus on self-improvement, spiritual enlightenment and raising their consciousness. Workshops can be practical hands-on focusing on business or self-improvement. The choice is yours.
HOW DOES AN EVENT WORK?
Types and lengths of events are endless. Let's get creative with an afternoon or evening that fits your group and budget.
MOST POPULAR EVENTS:
Private Parties
Office Team-Building
Business Retreats
Keynote Speaker
WHAT ANITA'S FANS ARE SAYING:
"Anita conducted a CEO Team-Building Workshop for our Zuri Hotel Group in Bengaluru, which showed us different ways for our team to interact with each other. It bonded our group and brought us something exciting and new."
- Bobby Kamani, owner of Zuri Hotel Global
INTERESTED IN RECEIVING MORE INFORMATION ON WORKSHOPS?
I invite you to schedule a 15-minute complimentary phone call to discuss your questions, goals and pricing options. Schedule Here