EVIL EYE
mixed medium art
Apsara bas-relief carvings are those fancy dancers and divine nymphs from Angkor Wat, Cambodia. Apsaras rule over the fortunes of gaming and gamblers. The evil-eye motif repels negative energy that others may send your way.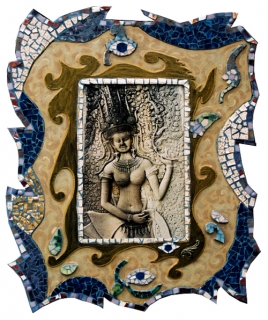 color photo
handmade mosaic frame
31" x 38"
In the golden age of Cambodia
between the 10th and 13th centuries,
Angkor was the capital and most
opulent empire in Southeast Asia.
Apsaras were the showgirls who
entertained the royalty and elite.
(gallery priced at $1,800 -
special $900 for on-line)
*local Los Angeles delivery only