Real Estate
Feng Shui for buying and selling property both residential and commercial is a powerful tool and one of my areas of expertise. With an Advanced Degree in Feng Shiu for Real Estate let me help you sell your property faster or find your dream house sooner. I will show you how to see your home through "Feng Shui Eyes" to attract the perfect buyer - it only takes one. I work with all the top agencies in Los Angeles, Aspen, and NYC like Sothebys, Keller Williams, ReMax, Coldwell Banker, Mason Morse, and Corcoran and I would love to work with you.
"Feng Shui with Anita Rosenberg on my listings -
WORKS! Anita is successful. She makes it happen.
Properties get SOLD. The results are what it's all."
- Penney Carruth, VP Marketing & Broker Assoc.
  Sothebys Realty, Aspen
BUY SMARTER - SELL FASTER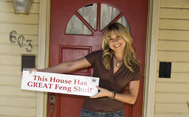 "Anita Rosenberg is my go-to expert
when I need to sell a listing quickly
for top dollar. The first house she
worked on SOLD that weekend.
Her House Selling Candles also
do the trick."
                 - Jeff Young, Sotheby's

*Bring me into your office for a Realtor Workshop & see sales soar!