Space Cleansing
Don't even think of moving into a new home or office without first clearing predecessor energy. You never want to take on anybody else's bad fortune, broken marriage or in some cases spirits who won't leave. As an intuitive, houses literally talk to me and I listen to those messages. Space Cleansing combines magical incense, Balinese bell, and energy work in conjunction with Feng Shui. If you have an extreme case, I bring in an associate who specializes in paranormal activity.
use space cleansing when:
Moving into new home or office Beginnings new projects
Starting new relationship Feeling stuck or stagnant
After renovation Clear worker's energy
Disturbed by spirits Listing property for sale
REBOOT THE VIBE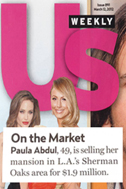 I live in Hollywood where spirits
like to hang around. So, I know
what it's like to clear your space
often. When working with Paula
Abdul's Listing Blitz to sell her
home, there were energies
from the 40s who wouldn't leave
so we cleared them out and
her house sold right away.