Anita's Journey
1957 Born in suburban Cincinnati.
1970 Meets high school art teacher and lifelong mentor Dorothy Dobbins. Spends rest of high school career locked in the art room.
1972-74 Takes up sensual welding ten years before Flashdance. Likes the macho feel of the welding iron and becomes obsessed with creating massive metal sculptures from scraps of old farm machinery. Alarmed family suggests safety goggles, and college.
1976-82 Attends San Francisco Art Institute and earns a BFA in sculpture. During off hours, masters the art of chopsticks. Family suggests more college.
1983-85 Earns a flashy and deeply legitimizing MFA in film directing from New York University. Thesis film Bachelorette Pad premieres at Patti Astor's Fun Gallery in the East Village. Keith Haring and Fab 5 Freddy very impressed.

1987 Gets big break writing and producing autobiography about LA club life called, Modern Girls starring Virginia Madsen, Daphne Zuniga and Cindy Gibb.

1988 Gets really big break writing and directing cult classic chick flick, Assault of the Killer Bimbos (one of Quentin Tarantino's favorite films) starring Griffin O'Neal and Nick Cassavetes. Figures she has finally made it when she lunches at Warner Studios with George Clooney but winds up in development hell instead. Grows wary of the movie business.

1995-98 Launches a hand-painted furniture and accessories empire out of her basement in the Hollywood Hills. Fred Segal places big fat order. Ditto Nordstrom Department Stores. Orders pour in.
1999 Anita is crowned the "Queen of Painted Furniture" and is asked to write The Art of Painted Furniture, which is also released in paperback as Fanciful Furniture.
2000 Anita Rosenberg designs are featured on the sets of Friends, Everybody Loves Raymond and Sabrina the Teenage Witch. Celebrity client list expands to include Tom Cruise, Nicole Kidman, Jennifer Aniston, George Clooney, Tom Hanks, Arnold Schwarzenegger, (film school classmate) Spike Lee, Pamela Anderson, Elizabeth Taylor and Hilary Clinton.
2001 Takes first solo trip to mainland China earning her reputation as the only white girl crazy enough to travel up the Pearl River wearing Versace.
2002 Embarks on a search for deeper meaning, and earns a degree from the Western School of Feng Shui and an advanced degree in Feng Shui for Real Estate. Carves out a new niche using Feng Shui with Realtors to maximize profit potential on commercial and residential properties.
2005 Becomes known as "The Hollywood House Whisperer." Celebrity client list expands yet again to include Virginia Madsen, Julie Brown, Denise Crosby, Fred Savage, Annabelle Gish and Krista Smith (editor of Vanity Fair Magazine.)


2007 Publishes second book, Thursdays with Mom & Michael, featuring her mother's exquisite table settings and celebrity Chef Michael Rueggeberg's sumptuous recipes. All proceeds from the book go to family friend Evelyn Lauder's The Breast Cancer Research Foundation. Fans of the book include Sharon Stone, Melanie Griffith, Hill Harper, Lori Loughlin and Felicity Huffman.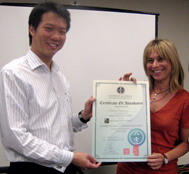 2008 Opts out of pop Feng Shui culture by studying complex form of Classical Feng Shui and equally mind-altering Chinese Astrology called BaZi with Master Joey Yap, CEO and founder of Mastery Academy of Chinese Metaphysics.

2009 Unleashes the concept of Classical Feng Shui and Chinese Astrology to Western audiences interested in improving their lives and changing their fortunes.
2010 Travels to India and has a transcendental experience drinking opium juice from a shaman's hand. Decides wearing a bindi everyday will not go over well in Hollywood (or maybe it will) and makes a guest appearance as the Feng Shui expert on the VH1 Reality Show, Brandy & Ray J.
2011 Takes BaZi Assessments to a new level working with corporate clients like the Hollywood Roosevelt Hotel and Grant Thornton India as well as Internationally famous artist Shepard Fairey's Studio Number One design firm. Helps Paula Abdul with Feng Shui. Artwork appears on the set of ABC sitcom The Middle for third season. Can't get enough of India, this time for business. Prestigious Young President's Organization sends her to Punjab, Delhi, Kolkata, and Bengaluru for workshops. Meets her "astral sister" and Queen of Reggae, Rita Marley, and creates Royal Rita - Mystiques of a Queen Collection.


2012 Travels continue to Monaco and Panama where she adds more international clients to her roster. A fabulous article in the prestigious CEO Compass Magazine, Shopping for Nirvana in India, prepares International business leaders for their India college. Photos from 1980s NYC graffiti scene make the cover of FUN Gallery... the true story. And her scrapbook/memoir series; Buddha-licious - Shopping for Buddha, Ganesh Mania & other sacred stuff, and Goddess Guide is ready to publish.

2013 and beyond. Anita plans more books, more speaking engagments, more corporate workshops, and launching her unique spiritual shopping experience The Good Karma Shop to a larger audience. Stay tuned!