Discover Your Destiny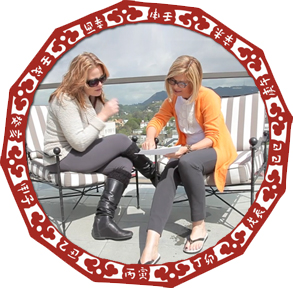 Before I learned about Chinese Astrology I thought it was only about the animal zodiacs on the menu at the Chinese restaurant. I was wrong! BaZi Chinese Astrology is a complex and deeply fascinating subject that I have been studying and applying for the past ten years. Originally used to personalize a person's Feng Shui, BaZi is now a stand-alone practice used by Fortune 500 CEOs and business leaders throughout Asia. It is an elite service for business tycoons in China who hire BaZi Experts to guide them daily on business decisions and dates for transactions and investments. As one of the few practitioners in the West doing this type of work, BaZi Astrology is one of my specialties.
Successful people have coaches. Spiritual people have cosmic coaches.
Whether you consult your BaZi on your personal life or on your career and business, it is a transformational tool. The more you know about yourself the better decisions you make. The more clarity, the easier it is to go with the flow. Let me help direct your BaZi so you can shine in the spotlight of your life.
PERSONAL TRANSFORMATION
Cosmic Coaching utlilizes a variety of high level tools, but the place to start is with an initial BaZi consultation because everything in your life is written in your BaZi chart: career talents, wealth potential, health and healing, children and all relationships. It is an in-depth journey into who you are and how you navigate the world.
BUSINESS SUCCESS
There is no one-size-fits all business or life plan. Everyone is unique and what works for Oprah Winfrey (Yi Wood Philosopher Profile) does not work for Jeff Bezos (Geng Metal Performer Profile.) For business, we want to work ON our business not just IN our business.
As an artist, photographer, designer, film director and now a spiritual expert I have had success in a variety of creative fields. Not only am I accredited in a wide range of metaphysical tools, I was one of the first female director's in Hollywood and built a million-dollar global decor business in a few years. An award-winning author, journalist, and International speaker I understand what it takes to build a brand, market your services, premiere a Hollywood movie, source products and import containers from China. Keeping current on trends, social media platforms, influencers, and understanding how to monetize talent (as a Ren Water Wealth Profile) puts me in a unique position to help you in your business.
NEW for 2018: Seasonal and Monthly Coaching to set goals and keep you on track.
PREMIUM SERVICE: Qi Men Calendar on Google for easy phone access. It's a must-have daily tool for your morning ritual. Use to tap into daily Qi and schedule all important activities.
WHERE TO START?
An initial BaZi Chinese Astrology Consultation comes with a written report supported by a 90-minute private reading either in person or by phone. Before consult I need:
Birth date and time
Top 3 questions or goals
MOST POPULAR COSMIC COACHING SERVICES:
Initial BaZi Reading
BaZi Reboot (current clients only)
Seasonal Coaching (current clients only)
Monthly Coaching (current clients only)
Yearly Wealth Forecast
Relationship Dynamics
Qi Men Dun Jia Forecasting
Qi Men Calendar of Auspicious Dates
3 Victory Dates
Office Feng Shui
WHAT ANITA'S FANS ARE SAYING:
The best present I've given clients (including Jen Aniston, Justin Theroux, Gwyneth Paltrow, Orlando Bloom, Miranda Kerr and Selena Gomez) is Anita's BaZi Wealth Forecast. They flipped out at the accuracy and inspiration that they received and said it was the best gift I've ever given them and "I take my gift giving very seriously!"
- Aleen Keshishian - Owner Lighthouse Management
INTERESTED IN RECEIVING MORE INFORMATION ON BAZI & QI MEN CONSULTATIONS?
I invite you to schedule a 15-minute complimentary phone call to discuss your questions, goals and pricing options. Schedule Here