FIND YOUR BLISS
Feng Shui is Earth Luck and it affects one-third of your life. Good Feng Shui is about finding harmony and balance in your surroundings. Having good Feng Shui raises the Qi or life-force energy to support and nurture every aspect of your life. My practice focuses on BaZhai or 8 Mansions for long-term results. My secret sauce includes auspicious dates that trigger good luck activations. This is one of the highest levels of Feng Shui where I have found the best results. If you feel stuck, depleted, embarrassed by your space, or currently on a roll and need to rise even higher to reach your true potential then addressing your Feng Shui is for you.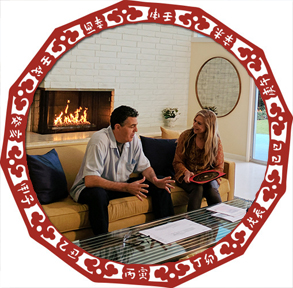 HOW CAN I HELP DIRECT YOUR FENG SHUI?
As an intuitive houses literally talk to me and I listen to those messages. In certain circles I am known as the Hollywood House Whisperer. A Luo Pan Compass is my trusty tool mapping out auspicious and inauspicious sectors of your house or office. Important areas of focus include the entry or Ming Tang, bedrooms, kitchen and home office. The goal is to tap into your best directions and use the rooms with the good energy. I don't slap generic Feng Shui onto your space; I personalize it based on your BaZi Astrology chart to solve your problems.
HOW DOES A FENG SHUI CONSULTATION WORK?
Off-site charts and report are prepared in advance of on-site property walk-through. Before consult I need:
Property address and floor plan (professional plan preferred)
Compass direction of front door
Birth dates of all residents
Personal and professional goals
MOST POPULAR FENG SHUI SERVICES:
House Harmony & Prosperity
Office Empowerment
Renovation Consultation
Yearly Feng Shui Reboot
Yearly Trigger Activations
WHAT ANITA'S FANS ARE SAYING:
"Anita was called to the W Hollywood Residences for an "emergency Feng Shui" consultation to offer suggestions to attract new buyers. We especially needed her quickly since there were perspective buyers arriving from China."
- W Residences Hollywood
INTERESTED IN RECEIVING MORE INFORMATION ON FENG SHUI CONSULTATIONS?
I invite you to schedule a 15-minute complimentary phone call to discuss your questions, goals and pricing options. Schedule Here