My Abundance Magical Candle is one of those that fly out. This is one of my most popular candle energies. Attracting Abundance is about increasing your capacity. Remember though, TO HAVE MORE - YOU MUST BE MORE.

That means there are certain actions you must take. If you can tap into the energies of abundance by doing activities that help grow your value, you can gather more of what you want. Along with the actions you take in your everyday life, you can light an ABUNDANCE MAGICAL CANDLE to jump-start this energy.

When you light this deep red/purple candle with grape magical oil essences you are focusing on what you want to attract. Life was meant to be lived in a state of expansion and abundance. More can mean more money, time, happiness, relationships, health, opportunities, or something else. You must define and be clear.

Abundance vibrates with the expansive Jupiter and the Ten of Pentacles in the Tarot.

Here's what to do:
Write a list of what you want more of and place it underneath the lit candle.
Be clear about what you want because the universe can't read your mind.

AFFIRMATION: I live in the flow of abundance and everything I focus on comes to me easily and effortlessly.
NEW
- the alchemy of adding crystal boosts mixes a subtle layer to your magical candle intention.
To add a crystal boost CLICK your choice in the dropdown menu. Boosts come with a card description of the bonus energy.
GREEN AVENTURINE BOOST - prosperity, leadership, and creativity boost
PINK AVENTURINE BOOST - heartfelt, happiness, enrichment boost
SODALITE BOOST - communication, clarity, and connection boost
YELLOW QUARTZ BOOST - self-confidence, joy, and creativity boost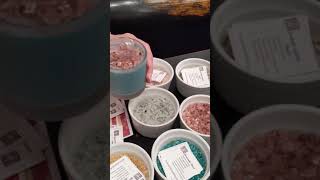 CLICK TO VIEW CRYSTAL BOOST
BENEFITS:
abundance
expansion
clarity
enjoy life's rewards
ask for what you want
be clear and focus
raise your energetic vibration to a higher level of attraction

PRODUCT DETAILS:

made during specific moon phases
100% clean-burning soy wax
hypo-allergenic
10oz frosted recyclable glass container
handmade using essential oils
burns for @40 hours

RULES FOR MAGICAL CANDLES:
light with the intent of abundance
snuff out when not home
relight when needing the energy
black smoke on the glass means it worked hard - burn another
Light Abundance when you are focusing on MORE of anything - write a list underneath as you light it of everything you want more of. Be clear of what you want to draw into your life.