I discovered AMAZONITE when I needed comfort and to de-stress. One of my crystal teachers told me about the amazing properties of Amazonite as an anti-aggravation stone. When I first held it in my hand the Amazonite instantly calmed and invited peace into my heart. I was once again back in balance.

First reported in 1847, named because it found on the banks of the Amazon River in South America.

Amazonite soothes all the chakras which make it great for general health maintenance. This is the stone that absorbs EMF stress from all electronics. During this time of 5G - you need to include all the tools to help clear out that energy to keep yourself healthy. Amazonite manifests universal love. It is one of my must-haves and it should be in your collection too.

TIP: hold when watching TV at night to calm yourself after a stressful day. It works!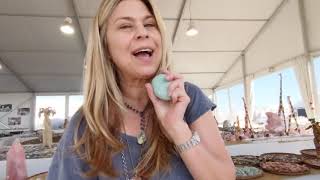 VIEW AMAZONITE VIDEO AT TUCSON SHOW
polished palm stones
generator points with rough base
AMAZONITE BENEFITS:
eliminates aggravation
blocks geopathic stress
absorbs microwaves & cell phones
soothes chakras
calms nervous system
enhances loving communication
dispels irritation
hold polished stones in your hand for comfort, place on your desk and pick it up when needed - I have mine on the ottoman by my couch to hold when watching TV to soothe myself