When I was in India, my favorite Ganesh statues were hand-carved and hand-painted. The different crystals bring a layer of energy to each unique piece. How I pick out Ganesh statues is that I look to the face. If the eyes draw me in, they come home with me.

You can never have too many Ganesh statues in your sacred space. They bring happiness and joy. This is my newest collection found at the Tucson Gem Show 2020 from a new vendor from India.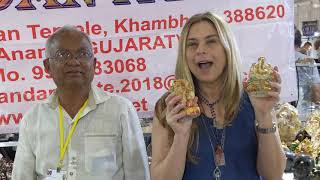 VIEW VIDEO OF SHOPPING FOR GANESH
hand-carved
each is unique

A-green aventurine - stone of prosperity - SOLD
B-rose quartz-SOLD
C-gray aventurine - emotional balance
D-brown aventurine - grounding
E-clear quartz - energizing & clarity - SOLD
F-yellow aventurine - healing & focus - SOLD
G-rose quartz - vibrates with the heart chakra for love - SOLD
HOW TO CREATE A GANESH SHRINE:
start with a Ganesh statue
add a vase of yellow flowers - his color his yellow
include crystals, rudraksha beads or other magical objects
light sandalwood incense, I have Ganesh special blend incense
light Ganesh candle from my collection
add a dish of uncooked rice as an offering
Recite Ganesh Mantra: "Om gam ganapataye namaha"

GANESH BULLETIN:
removes obstacles
blesses new ventures
protects travelers
attracts abundance
brings wisdom to writers
keeps household peace & harmony
Ganesh attracts prosperity and blesses new beginnings. Place at your entry.