At the Denver Gem and Mineral Show, I found NEW raw stones that combine the trifecta of happiness, healing and love energy. Raw green PREHNITE with raw black EPIDOTE and orange STILLBITE from Mali increase whatever you focus on.

Having Epidote around helps you become less critical, enhances the perception and personal power. They attract more meaningful relationships. If you are trying to lose weight, having Epidote around is helpful.

Prehnite is the stone of unconditional love. It heals the healer. Prehnite enables you to always be prepared. When you attune to this energy it shows you the way forward to spiritual growth.

Stillbite is the stone of happiness and joy. With the highly creative Stillbite crystal, you open your intuition with a loving and supportive vibration. It helps manifest thought to action. The stone gives you guidance on your life journey.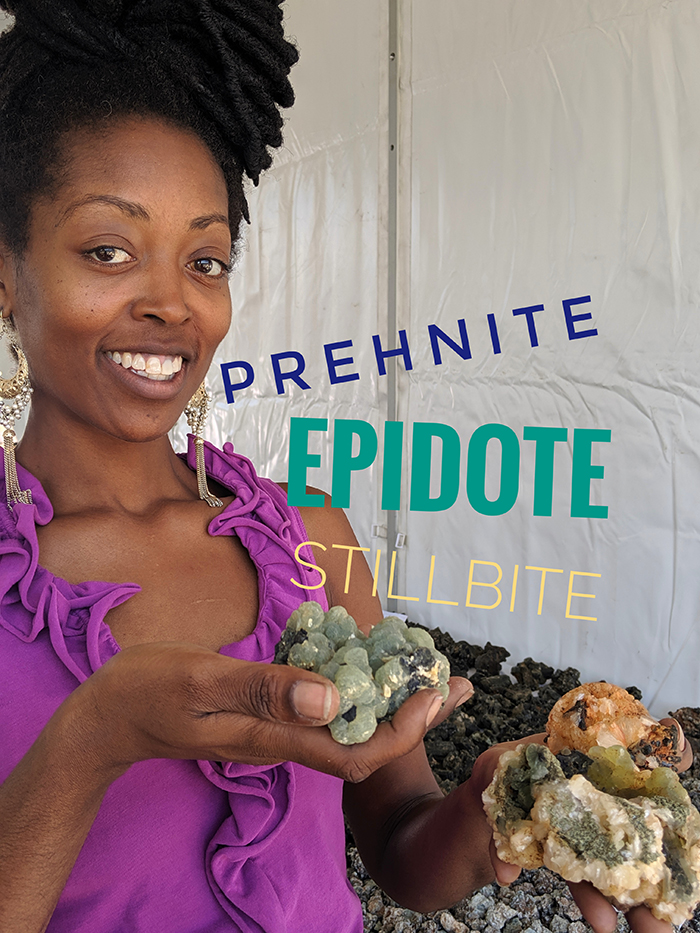 VIEW PREHNITE EPIDOTE VIDEO 2019
PREHNITE EPIDOTE STILLLBITE BENEFITS:
super healing & calming
gain personal empower
heals the heart
become less critical
increases friendships, love & relationships
calms the nervous system, brain & thyroid
helps lose weight
good Feng Shui stone
supports creativity
guides you on your life journey
happiness & joy
Prehnite with Epidote and Stillbite is super healing, calming and joyful.