For all my creatives out there, you must have a CARNELIAN in your collection.

Carnelian opens up creative channels. This is the stone of creativity and a great energy blaster. Awakens one's passion --stirs up the inner fire. This is my favorite crystal for artists and actors. I look for deep red and orange pieces to activate the sacral chakra. Carnelian helps you get to the bottom of what makes you tick. It increases personal power and physical energy –supporting the kidneys and bladder. Carnelian calms anger and grounds you in reality. It gives you the courage to be the best you can be.

Carnelian increases personal power and physical energy. Allows deeper concentration when meditating by keeping out interrupting thoughts. Useful in making decisions by keeping you focused. A must-have for any collection.

NEW --CARNELIAN LACE comes in colorful patterns from China. I had not seen this style of Carnelian before so I grabbed as many pieces as I could. Hold these pieces to your heart to release what no longer serves you. Brings up raw emotions, frustrations, anger, and pain --then let go.
Affirmation: "I am inspired and creative every day --in every way."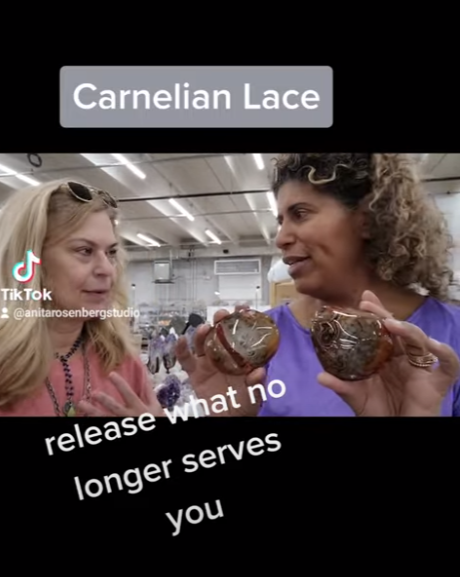 WATCH ANITA & MICHAL TALK ABOUT CARNELIAN LACE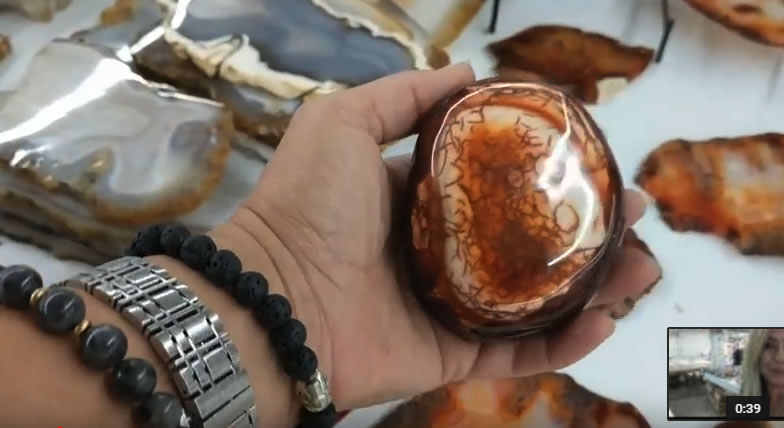 click image to view video from Denver Gem Show
WATCH GRANT TALK ABOUT CARNELIAN



CARNELIAN BENEFITS:
stimulates 2nd chakra - sexuality
grounds & anchors in reality
protects against rage, envy & resentment
replaces evil eye with love
overcomes abuse of any kind
tunes daydreamers to reality
helps with lower back & heals arthritis
creative stone for artists & actors
encourages initiative and determination
keep with other stones to clear them
gives courage and boosts creativity and compassion
releases what no longer serves you
Currently there are no reviews for this product. Share your opinion with others, be the first to write a review.