MONEY SEAL MAGICAL INCENSE is a powerful DIY space cleansing technique. This high vibrational mixture combines dragon's blood, aura cleanse and money draw to raise the vibration on any space. Start at the front door and move clockwise throughout a home, room or any space with strong intent. If you are quiet and listen, houses might even talk to you. Listen to those messages.

Made by high-level practitioners, this secret blend is what serious space cleansers use. This is my go-to combination for my Space Cleansing work. You will also need charcoal bricks and a cauldron.
handmade powdered incense
4oz container
*comes with written instructions
**watch video below for further instructions
WATCH VIDEO: HOW TO LIGHT MAGICAL INCENSE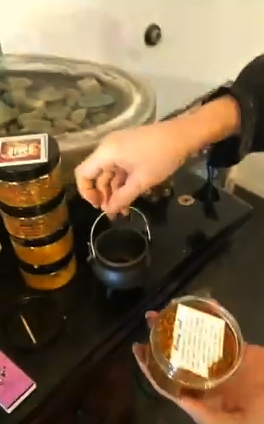 WATCH VIDEO: HOW TO DO A MONEY SEAL
INCENSE RULES:
smoke from incense sends your prayers faster to heaven
light with intention or goal
only powdered incense does magic
light charcoal brick until it sparks
place inside cauldron
sprinkle incense on top
keep sprinkling until brick and incense burns out
it raises your vibration
cleanses energy & blesses the space
sends your prayers to the universe
Currently there are no reviews for this product. Share your opinion with others, be the first to write a review.