I discovered AMAZONITE when I needed comfort and to de-stress. One of my crystal teachers told me about the amazing properties of Amazonite as an anti-aggravation stone. When I first held it in my hand the Amazonite instantly calmed and invited peace into my heart. I was once again back in balance because this stone calms all the chakras.

First reported in 1847, named because it was found on the banks of the Amazon River in South America.

Amazonite balances male and female energies. It soothes the nervous system and soothes all the chakras which makes it great for general health maintenance. It specifically balances the heart chakra. This is the stone that absorbs EMF stress and pollution from all electronics including cell phones, microwaves, and computers. During this time of 5G - you need to include all the tools to help clear out that energy to keep yourself healthy. It is an energy filter.

Amazonite manifests universal love. It is called a "stone of success and abundance" attracting focus and good luck. Used to connect with fairies and nature spirits. Amazonite is one of my must-haves and it should be in your collection too. Recently found heart-shaped Amazonite for opening the heart chakra and aligning with your heart's true purpose.

TIP: hold when watching TV at night to calm yourself after a stressful day. It works!

*If you know someone who is leaving this life, Amazonite aids in a peaceful transition.

Affirmation: "I am calm and centered --successful and abundant."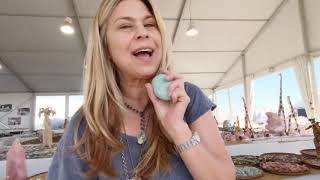 VIEW AMAZONITE VIDEO AT TUCSON SHOW
polished palm stones
generator points with a rough base
from Madagascar
AMAZONITE BENEFITS:
worry stone
eliminates aggravation
blocks geopathic stress and deflects EMFs
absorbs microwaves & cell phones
soothes chakras
calms nervous system
enhances loving communication
dispels irritation
connects to fairies
see both sides of an issue
develop clear solutions
focus and good luck
activates heart chakra
balances male and female energies
enhances feminine divine energy
Currently there are no reviews for this product. Share your opinion with others, be the first to write a review.