AVENTURINE is a positive stone of prosperity and probably my favorite stone for business.

What I look for in Aventurine are the shiny particles and speckles within the green stone --the imperfections. Aventurine absorbs electromagnetic smog and protects against environmental pollution. Aventurine diffuses negative situations and turns them into positives. My favorite use is to deflect negative energy coming from energy vampires –people who suck your life force away. This green stone calms anger and irritation, enabling you to live within your heart.

The energetic color needed on the planet right now is green for growth and healing. As we head into a new pivotal time transitioning from Feng Shui Period 8 to Period 9 (2024-2044) --we are needing a new type of energy to raise our vibration. This is a 20-year time of fast-moving, spirituality, beauty, IT, and AI --the time of the middle-aged woman (Li Gua). Women will be coming into power and leading in every industry and every aspect of life. Being exposed to all sorts of negative attacks, the Aventurine is an important stone for all female business owners and career gals to have on their desks.

Affirmation: "I am protected as I open myself to following my heart's desire."

I am very picky about my Aventurine pieces. If they are not high quality and calling out to me I will not pick them up for the Good Karma Shop. Choose your Aventurine wisely as it can be one of your favorite personal tools of power and prosperity. A must-have in every crystal collection.


"What do you get the guy who has everything?
My client supermodel and business owner of Kora Organics Miranda Kerr got one for
herself and one for her husband Evan Spiegel (Snapchat founder)."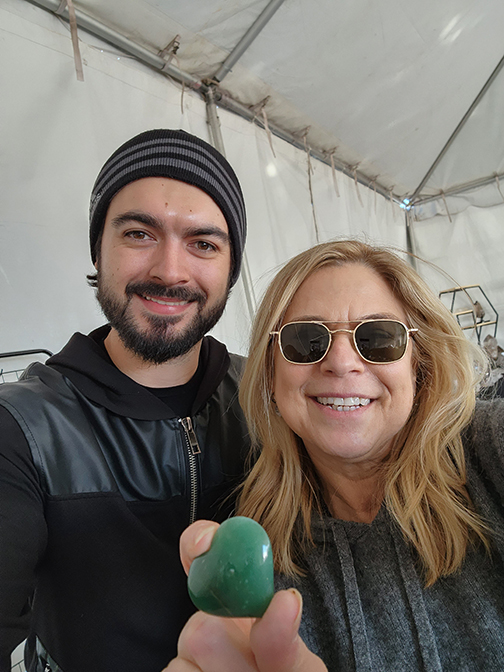 Savio shares info on Aventurine Crystals

NEW shapes:
generators, flames, palm stones, raw generator

AVENTURINE BENEFITS:
stone of prosperity
balances intellectual, physical & auric bodies
enhances creativity
pioneering spirit
reinforces leadership qualities
protects heart chakra
shields from energy vampires
calms anger & irritation
heals allergies & sinus infections
diffuses negative situations and turns them around
follow heart's desire
Currently there are no reviews for this product. Share your opinion with others, be the first to write a review.