India is the Land of Om... it is also the Land of Ganesh!

Everyone who visits catches Ganesh Mania!
GANESH is the elephant-headed Hindu god of prosperity who removes obstacles and blesses new beginnings. He is the most popular and widely worshipped deity and once you get to know him he's going to be your new best friend. A superstar in his native land, Ganesh is embraced by everyone no matter their religious or spiritual preference.

Ganesh is all about the new-new. When new enterprises or houses need prayers, he has the power. Ganesh protects new ventures, a new day, or when traveling to somewhere you've never been before.

Ganesh removes obstacles so you can find your dharma.
Tips for Ganesh shopping: Ganesh finds you. Look at the face and expression.

Ganesh has a human body with an elephant head. He has a third eye on his forehead and holds a goad in one hand and a noose in the other. He has a broken tusk. A cobra around his pot belly reminds him of his father Shiva. His best friend is a mouse. He has between 2-16 arms. Trunk turned right means to attain moksha or renounce the world. Trunk turned left means success in the world.

NEW! Sodalite and Amethyst hand-carved and hand-painted.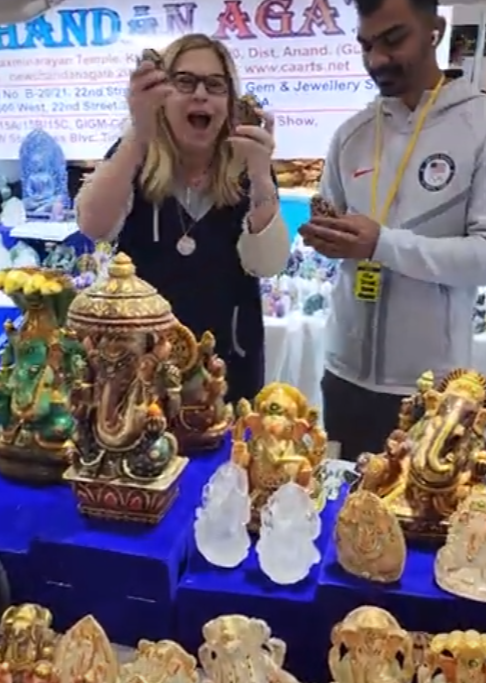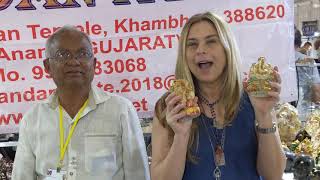 VIEW VIDEO OF SHOPPING FOR GANESH
hand-carved & hand-painted --each is unique

gray aventurine - emotional balance
sodalite - mental clarity
amethyst - positive vibrations
rose quartz - loving energy
HOW TO CREATE A GANESH SHRINE:
start with a Ganesh statue
add a vase of yellow flowers - his color is yellow
include crystals, rudraksha beads, or other magical objects
light sandalwood incense, I have Ganesh special blend incense
light Ganesh candle from my collection
add a dish of uncooked rice as an offering
Recite Ganesh Mantra: "Om gam ganapataye namaha"

GANESH BULLETIN:
removes obstacles
blesses new ventures
business success
joy and happiness
protects travelers
attracts abundance
brings wisdom to writers
keeps household peace & harmony
Ganesh attracts prosperity and blesses new beginnings. Place at your entry.
Currently there are no reviews for this product. Share your opinion with others, be the first to write a review.