BLACK KYANITE aka WITCHES BROOM is my new find. Kyanite in general is the go-to for clearing negative vibrations. Kyanite aligns all your chakras and balances yin & yang. Use for protection against toxic people and negative energies in general. The fan formation is like a broom sweeping away unwanted energies.

Having a small piece around clears all negative vibrations. They are delicate so best not to carry them with you. Perfect for offices where all sorts of high anxiety energy can accumulate. Use in bedrooms for dreams. Also, use in children's rooms for protection. Never needs cleansing.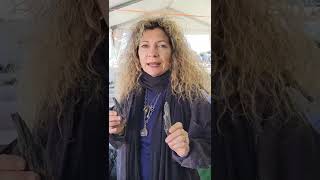 WATCH NICOLE FOOS TALK ABOUT BLACK KYANITE

assorted sizes - 4"

BLACK KYANITE BENEFITS:
Clears & calms for meditation
Amplifies high frequencies
Used for chakra cleansing
Super protectors
Grounding & energizing
Sweeps away unwanted energies
Currently there are no reviews for this product. Share your opinion with others, be the first to write a review.