CALCITE is the stone of peace, love, healing, purification, and energy. It is thought to balance the emotional state, remove blockages, and aid in purification. Calcite is also in the family of Onyx.

At the Tucson Gem Show 2023, I was searching for stones in hues of red and orange representing the upcoming Li Gua (fire energy) of Period 9 --that we are currently shifting into. When I found these Orange Calcites with gorgeous inclusion of a variety of different crystals --shaped in a flame (fire energy) I had to pick them up for the Good Karma Shop. These energies are very new to me. Isaiah (who sold these to me) said they were Orange Calcite with Hematite and maybe they are --but upon further investigation, I linked the blue with Apatite. This is the charm of shopping at the shows. Sometimes, you have to do your own research to determine the meaning and spiritual connection of the stones you are drawn to.

ORANGE CALCITE is a deep orange stone that helps integrate the spiritual realm with the physical body, enhances creativity, and is helpful when working with emotional issues.

APATITE is a blue stone that works well with other crystals --facilitating faster results. Apatite is the "stone of the future" that enhances creativity. It clears mental confusion and awakens the inner self.
Calcite in general sends energy out in all directions and helps clear the room of negative energy. It speeds up growth. A spiritual stone linked to higher consciousness opens one to psychic abilities. Connected to the intellect. It combats laziness. Calcite alleviates emotional stress and replaces it with serenity. Calcite crystals are known to help you to let go of the past and step forward into the future.

Orange Calcite with Apaptite is a very rare find.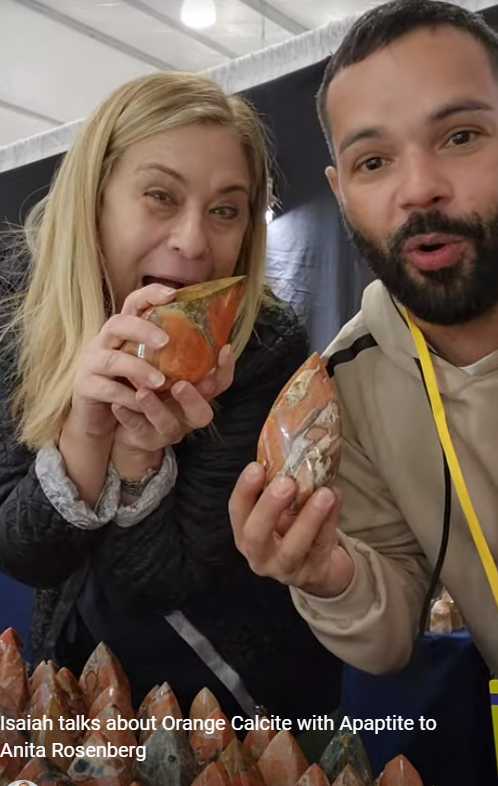 Isaiah talks about Orange Calcite with Apaptite
ORANGE CALCITE with APATITE BENEFITS:
stimulates lower chakras - sexuality & passion
power amplifier & energy cleanser
removes blocks to success
uplifting and stable energy
removes stagnant energy in your body
alleviates stress, replacing it with serenity and calm
confidence & self-worth
stress removal
creativity
inner knowledge
clears mental confusion
stimulates thoughts and ideas
Currently there are no reviews for this product. Share your opinion with others, be the first to write a review.